OUR BUSINESS PHILOSOPHY:
In today's arena it is sometimes very difficult to find a business that seems to care. Imagine what it would be like if businesses always treated you as though you really matter. It is important to us that we treat all our customers in a way that reflects how much we appreciate each and every one of them. Because we are not the only electricians in Glendale, we know we need to keep our promises to stand out in the crowd. Each and every time we do work for you, we see it as an opportunity to make a lasting impression. We look forward to earning your trust. We want you to appreciate us as much as we appreciate you.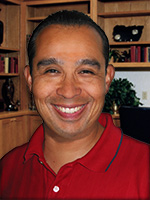 Your Glendale Electrician
If you need an electrician in Glendale to solve any electrical issue, you have landed in the right place. I am Hugo Galvez, and I stand behind all of our work with a Lifetime Guarantee. Since 1991, H Electric has been serving the Glendale area, satisfying customers in their homes or offices. Your job may be to choose the best Glendale electrician. Our job is to get your problem solved.
Our technicians
Whatever your needs, our Glendale electricians are trained to troubleshoot, replace or install and, in every case, follow through on any project until it is completed to your total satisfaction. It might be only replacing a light switch - no job is too small. If you need a total system upgrade, you will not find a more dedicated electrician in Glendale. You will be impressed with everything from appearance to attitude.
Total teamwork
We know that great customer service involves teamwork; that is why your pleasant experience with our company starts with your initial contact. When you call us, we offer a phone consultation to discuss your electrical problem along with a Free Over-The-Phone Estimate. Although we make sure we give you up front pricing at your location as well, this estimate will help you determine your cost over the phone. So you can run your schedule smoothly, we do our best to keep a two hour timeframe when we set our appointment. Our Glendale electricians are in constant communication with the office to make sure you stay updated.
Convenience
As soon as you are satisfied with our completed work, you have the option to pay with any major credit card or a personal check. We are licensed, insured and bonded.
H Electric
1125 E Broadway Glendale, CA 91205
(800) 971-7009
www.electricianglendale.org




admin@electricianlosangeles.com
8-5 Monday-Friday
Fax:
Licensed, Bonded, and Insured
Licenses: #C10 685970 & #C10 406002